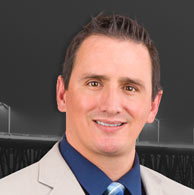 Garrett James Kerns D.O.
Garrett James Kerns D.O.
Orthopaedic Surgeon
Dr. Garrett Kerns is an orthopedic surgeon in Marquette, MI. He specializes in sports medicine and hip preservation with additional training in both specialties. While in San Diego doing his sports fellowship, Dr. Kerns got to work with the San Diego Padres and San Diego Chargers professional teams as well as several Division 1 programs. He helped to manage the care of these elite athletes and maintain their peak performance. Dr. Kerns was once an athlete himself, as a college basketball player, and he has a passion for caring for athletes of all levels, from elite athletes to the recreational athlete. He looks forward helping you reach your peak performance or getting you back to your sport or activity if you happen to suffer an injury.
Post-Graduate Education
Orthopedic Hip Preservation Fellowship (2019-2020)
University of Colorado Hip Preservation Program - Boulder, CO

Orthopedic Surgery Internship & Residency (2011 – 2016)
Mercy St. Vincent Medical Center - Toledo, OH

Orthopedic Sports Medicine Fellowship (2016 – 2017)
San Diego Arthroscopy and Sports Medicine Program – San Diego, CA
Medical Education
Midwestern University (2007 – 2011)
Arizona College of Osteopathic Medicine - Glendale, AZ
Degree: Doctor of Osteopathic Medicine
Undergraduate Education
University of California, Davis - Davis, CA (2001 - 2005)
Major: Neurobiology, Physiology and Behavior
Degree: Bachelor of Science
Academic/Professional Associations
American Orthopedic Society for Sports Medicine

2016 – Present

International Congress for Joint Reconstruction Member

2014 – Present

Arthroscopy Association of North America Member

2014 – Present

American Academy of Orthopedic Surgeons Osteopathic Member

2013 – Present

American Osteopathic Academy of Orthopedics Candidate Member

2011 – Present

American Osteopathic Association Member

2007 – Present
Hobbies/Interests
Weightlifting, Hiking and the Outdoors
Action Movies/Novels
Architecture
Collegiate & Professional Sports
Sports Coverage
Northern Michigan University
San Diego Chargers – NFL
San Diego Padres - MLB
San Diego Gulls – Minor League Hockey
San Diego State University – Div. I Football and Soccer
Saginaw Valley State University – Varsity Athletics
San Diego Mesa Football – Junior College
Grossmont College Football – Junior College
High School Football
Click here to View Garrett James Kerns D.O.'s Full CV
You will need the Adobe Reader to view and print the above documents.